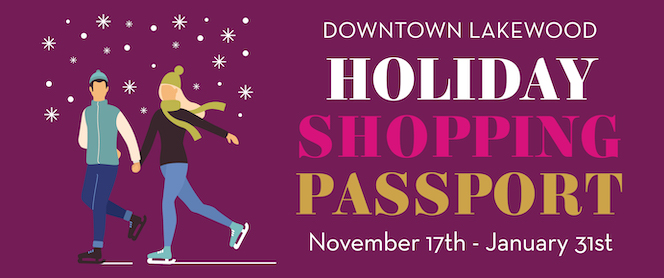 Downtown Lakewood Holiday Passport
November 16 - December 31

From 12:00 AM - 12:00 AM
423
423 people viewed this event.
'Tis the season to have some festive fun. Our Holiday Shopping Passport is your chance to receive special deals while searching around Belmar to find each deal. Below are the current participants, and this list will keep growing. Find as many QR codes around the neighborhood and check out the deals and when you find them all you can enter-to-win a $500 Belmar Shopping Spree.
HOW THE PROGRAM WORKS
Stop by the RINK and on the airstream (where you buy your tickets and get your skates) and scan the QR code.
This will open up the Passport on your phone so you can open the doors for each store.
Find the store, and the decal on the window with a QR code and scan it. (stickers will be live after 6 PM on Friday, November 17th).
Once you scan the code, a door will open on the passport.
There you will see the special offer (which we hope you will take advantage of).
Scan all the QR codes around Belmar and it will unlock an enter-to-win form that you can complete for a chance to win a $500 Belmar Shopping Spree.
The Holiday Shopping Passport is open from 6:00 pm on November 17th through December 31st.
On January 3rd we will select a winner randomly from all eligible entries.
If you have any issues or concerns, please email info@belmarcolorado.com
One winner will be selected at random from eligible entries on Wednesday, January 3rd after 10:00 am MT. The winner will be notified by email and/or mobile number with instructions on how to claim your prize.