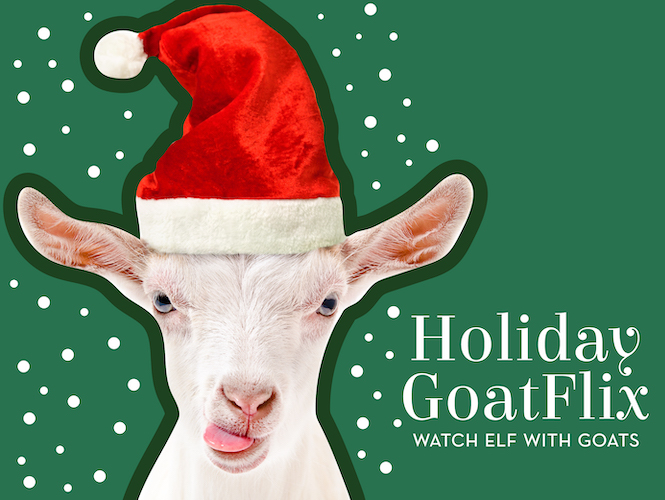 GoatFLIX and Chill
December 10, 2022


From 6:00 PM - 8:00 PM
48
48 people viewed this event.
Chill out with some local goats and enjoy the movie showing of Elf with Will Farrel.
The Rocky Mountain Goat Yoga will take over space XXXX and bring their goats to join you as you watch the movie.
Here's how it works:
Step 1: Buy your tickets here
Step 2: Arrive to the show at 5:45 pm to claim your spot.
Step 3: Bring your own lawn chairs and/or blankets
Step 4: Check out all the goats
Step 5: Watch a real good flick with your goat buddy
WHAT TO BRING
Closed Water Bottle
Pick up something to snack on at one of our many restaurant options
Comfortable Attire (holiday pajamas encouraged)
Phone to take photos (but please put it on silent prior to the film starting)
Hair Tie (Goats Like Hair)
Smiles & Friends!
Lawn Chairs
Blankets
No Jewelry
$5 FOR GOAT SNACKS (FEEDING GOATS OUTSIDE SNACKS IS STRICTLY PROHIBITED)
PURCHASE YOUR TICKETS TODAY